Welcome to the CPS Opioid Stewardship Resource webpage!


As pharmacy professionals, we know you continue to be on the front lines of the ongoing opioid epidemic.  We hope that the resources found here, including outstanding work done by our own members, will be of use in your day-to-day practice.    
---
COs CURE
(Colorado's Opioid Solution: Clinicians United to Resolve the Epidemic)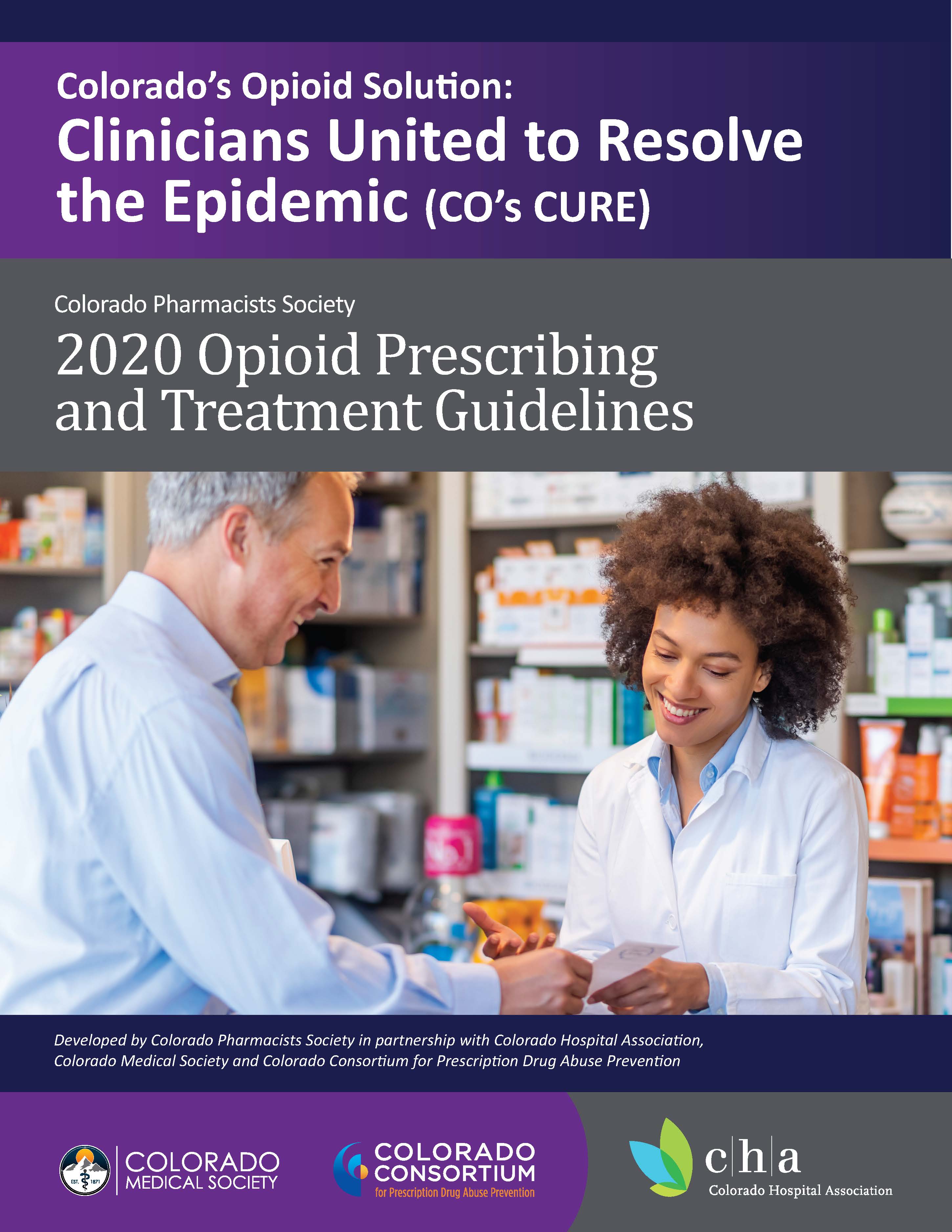 This two-year project brought together fourteen specialty medical societies, Colorado Hospital Association, Colorado Medical Society, and Colorado Consortium for Prescription Drug Abuse Prevention. The outcome of this partnership resulted in the development of seven clinical guidelines that center around the same four pillars – limiting opioid use, using alternatives to opioids (ALTOs) for the treatment of pain, implementing harm reduction strategies, and improving the treatment and referral of patients with Opioid Use Disorder. CO's CURE brought together diverse clinical specialties, all committed to resolving the opioid epidemic in Colorado through the development of opioid prescribing guidelines that seek to treat patients' pain more effectively while reducing unnecessary exposure to opioids.
Two of our Colorado Pharmacist Society members, Dr. Sara Wettergreen and Dr. Rachael Duncan, led efforts to create the Colorado Pharmacists Society 2020 Opioid Prescribing and Treatment Guidelines. This resource was collaboratively created as part of the interprofessional effort called Colorado's Opioid Solution: Clinicians United to Resolve the Epidemic (CO's CURE). These guidelines are intended for pharmacists across multiple practice settings, to guide and encourage efforts to target the opioid epidemic in Colorado.
---
Colorado MAT (Colorado Medication-Assisted Treatment) 
Inpatient Guides
---
Current involvement/efforts/affiliations
---
 Relevant Colorado Legislation
Senate Bill
House Bill
State Resources:
National Resources:
CDC

Department of Health and Human Services
National Harm Reduction Coalition

SAMHSA